Interest Area: Environmental Justice
Proposition 23, an initiative appearing on California's November 2010 general election ballot, would suspend the implementation and operation of California's Global Warming Solutions Act of 2006, better known as AB 32, until state unemployment rates remain at or below 5.5 percent for four consecutive quarters. That level has been reached three times since the state began compiling these statistics in 1976. AB 32 requires California to reduce its greenhouse gas emissions to 1990 levels by 2020, a reduction of approximately 30 percent from projected business-as-usual levels for the same year. During a period of suspension under Proposition 23, state agencies would not be able to "propose, promulgate, or adopt any regulation implementing" AB 32. In addition, the regulations adopted prior to suspension would be made "void and unenforceable" during the suspension period. The proponents of Proposition 23 argue that implementation of AB 32 will raise energy prices and reduce employment and, therefore, should be suspended until the state's economy is more robust. They contend that Proposition 23 will benefit California by temporarily delaying expensive and burdensome greenhouse gas reductionmeasures, while allowing those measures to move forward in the future, when the California economy improves.
This report and its recommendations provide a roadmap for the Obama Ad-ministration to move forward the goal of ensuring equal treatment under the law for all communities and to provide focus and attention on those communities – low-income, indigenous, and people of color communities – whose lives are threatened by environ-mental assaults of every kind. As the country grapples with the current oil spill disaster in the Gulf Coast, we look forward to discussions with the Obama Administration and its various agencies on protecting environmental justice communities. Now is the Time to achieve environ-mental justice and we are delighted to offer this report toward reaching that goal.
Economies of Nature
Monday, May 17, 7:30

with Dick Walker (author The Country in the City), Rebecca Solnit (author/activist) Antonio Roman-Alcalá (filmmaker In Search of Good Food, Permaculture Guild)

at SPUR Public Assembly Hall 2nd Flr, 654 Mission St (at 3rd)

Can there be "sustainability" within a growth-based, capitalist economy? Do "ecosystem services" and "natural capitalism" lead away from our current path, or do they only reinforce it? How does the Utopian imagination affect the narrow push for Green Survivalism?
Nature in Cities

with Peter Berg (Planet Drum Foundation), Miya Yoshitani (Asian Pacific Environmental Network), Jason Mark (Earth Island Journal, Alemany Farm)

at CounterPULSE, 1310 Mission St (at 9th), SF. Part of the Shaping San Francisco Talks series

Considering urbanization as a global crisis/an opportunity. Understanding the restorative, regenerative, and imaginative possibilities of a new integration of urban and rural through local agriculture, human-powered transport (e.g. walking, biking), etc.
Bay Area as Incubator

with Larry Orman (GreenInfo Network), Kirsten Schwind (Bay Localize), Harold Gilliam (SF Chronicle, SF Examiner)
at Koret Auditorium, SF Main Library, 100 Larkin St, SF. Co-sponsored by the SF History Center.

Examining the Bay Area as a demonstration area and incubator of experiments that shaped the national and international ecological movements. What is the relationship of San Francisco to its region? The region to the state, to the continent, to the oceans, and to the plane
t?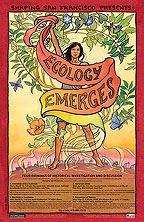 Evolution of Eco-Activism

with Jerry Mander (International Forum on Globalization), Karen Pickett (Bay Area Coalition for Headwaters), and Carla Pérez (Movement Generation)

Exploring the evolution of nature and ecological activism, how we thought about it 40 years ago vs. how we think about it now. Following the compelling shift from conservation to environmentalism to environmental/social justice over the last half-century.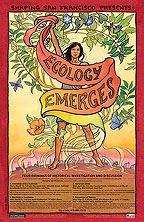 Join the Bay Area Environmental Health Collaborative (BAEHC) in demanding that the Bay Area Air Quality Management District address the cumulative and inquitable impacts of toxic air pollution that hits hardest on low-income and working class communities of color.

BAEHC is demanding that the Air District adopt our proposed Pollution Reduction Protocol that calls for an end to most new pollution permits and implementation of pollution reduction plans in overburdened communities.

Recently, the Air District proposed regulatory changes that were a step in the right direction, and would have created stricter pollution thresholds in highly impacted communities.

Related items:
News and events from the SEC newsletter and UH calendar
Interest area: Housing
Interest area: Jobs
Interest Area: Environmental Justice
Interest Area: Advocacy
Interest Area: Economic Development
Interest Area: Education